How is it already almost Thanksgiving? It seems like this crazy year has just flown by and here we are in November!
Thanksgiving is going to look different for a lot of people this year, but whether you are gathering with friends and family or celebrating alone, there are always reasons to be thankful! Maybe this is the year to create some new holiday traditions or maybe you can modify old ones! One thing is for certain: Thanksgiving 2020 is going to be totally unforgettable!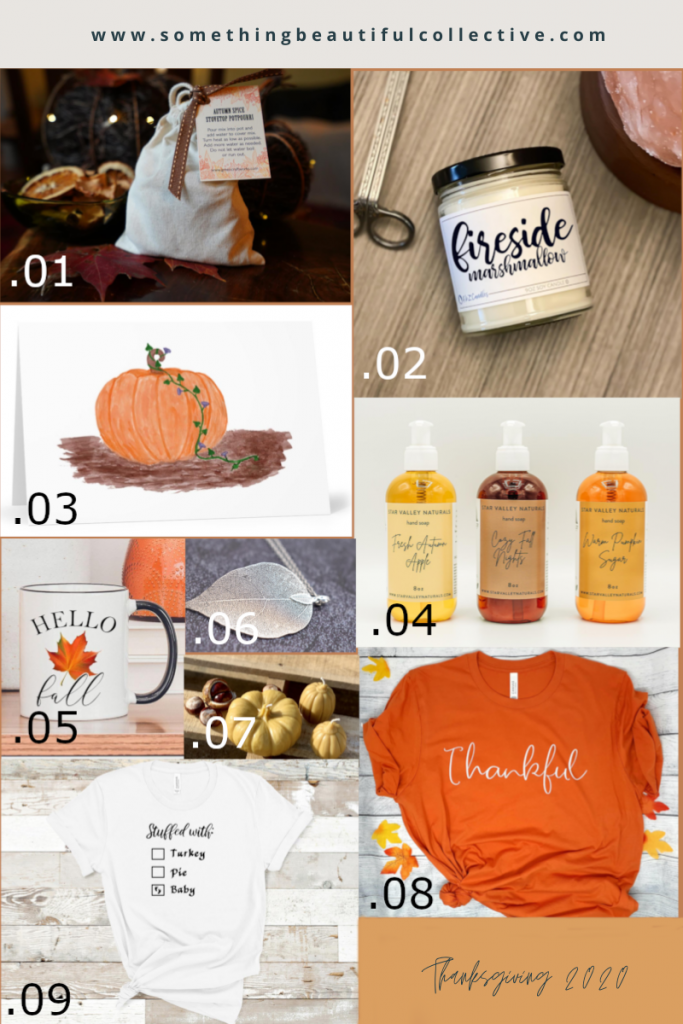 01. Step #1 to setting the Thanksgiving mood: festive autumn scents! This Autumn Spice Stovetop Potpourri from GreenCraftWorks will definitely help get you in the Thanksgiving spirit!
02. Next step: candles! After all, what is a holiday without candles? This Fireside Marshmallow candle from AtoZCandles will make your house smell like the cozy scents of vanilla, caramel, coriander, clove and more!
03. For those loved ones who cannot join you this Thanksgiving, sending them a card is a must! My Watercolor Pumpkin card is a perfect choice!
04. Since frequent hand-washing is high on the holiday to-do list, having some festive scented hand soap is a necessity! This Seasonal Hand Soap Bundle Pack from StarValleyNaturals includes soaps in the autumnal scents of Fresh Autumn Apples, Cozy Fall Nights, and Warm Pumpkin Sugar.
05. Are you tired of Pumpkin Spice Lattes yet? If not, then this Hello Fall mug from MoonwakeDesignsCo might be for you!
06. If you know anyone with a birthday anytime soon, this Silver Dipped Real Leaf Necklace from RockyShoreJewelry might be a perfect gift!
07. If you are a beeswax candle lover, this Set of 3 Beeswax Pumpkin Candles from ArtisanBeeCompany is a must!
08. Wear your heart on your sleeve…(well, almost:)…with this Thankful T-Shirt from 6kidsdesigns!
09. Maybe you have a big announcement to make this Thanksgiving! If so, this Stuffed With Baby T-shirt from ParisCustomTee might be the way to do it!
Sign up to receive updates, exclusive offers, and other fun stuff!