Well, here we are at the end of 2020! It's crazy how long this year has felt, and yet at the same time it seems like it was just New Year's! For my final product roundup of this year, I decided to pick the theme of "staying cozy." For those of us in the northern hemisphere, December's weather is typically on the colder end of the spectrum, and warm sweaters, socks, and mittens are essentials. Here are some things I found that can help you stay cozy this winter!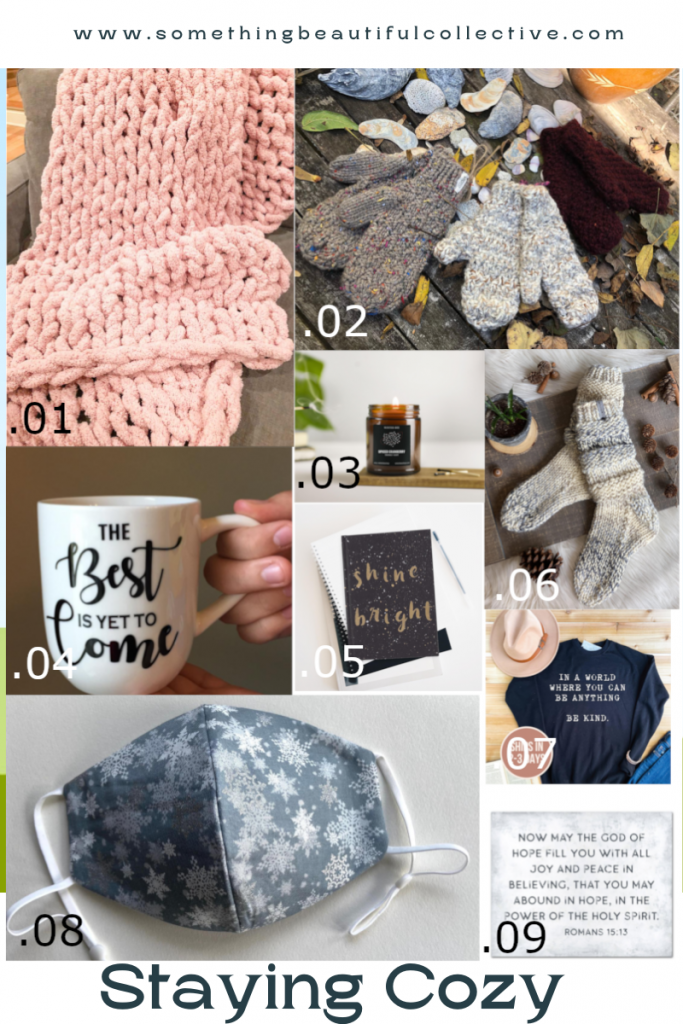 01. First things first! When you're snuggling down to watch your favorite movie, the first thing you need (aside from some popcorn, of course:) is a super comfy blanket! This Chunky Hand-Knit Throw Blanket  from avajuliettedesigns comes in multiple colors and each blanket is unique!
02. If you love going on walks in the crisp, cold air, then you're going to need some mittens to keep your hands warm. These Handknit Mittens from Windfest are sure to be cozy!
03. When you are staying indoors on long winter nights, candles always bring an element of cheer. This Spiced Cranberry Scented Beeswax Candle from WinterBeeShop will look and smell wonderful! You should check out their shop for other delicious scents as well!
04. Coffee, tea, hot chocolate, hot apple cider, eggnog…the list of special winter beverages could go on forever! This The Best is Yet to Come Coffee Mug from ClothedInChristCo is perfect for filling with whatever your favorite drink is!
05. If journaling is your thing, my Shine Bright Journal is a great place to write your thoughts, ideas, or even just your grocery list!
06. Cozy slipper socks are definitely a must for winter! These Chunky Knit Slipper Socks from IndieFiberart look so comfortable!
07. Need a new sweatshirt? This Be Kind Sweatshirt from MountainMoverz allows you to be comfy and spread encouragement at the same time!
08. If you have to go out…you're going to need a mask, because it is still 2020 after all! We think that this Gray & Silvery White Snowflakes Face Mask from NanisShoppe will do the job nicely!
09. If all this indoor time has made you realize that your decor needs a bit of a facelift, then this inspirational The God of Hope print from StudioJRU might help you get started!
So that's it for this time! Drop me a note in the comments and let me know how you're staying cozy this winter. I love to hear from you!
Sign up to receive updates, exclusive offers, and other fun stuff!