Hello 2021! Because new years are for new things, this month's product roundup theme is going to be a little different from the ones I've been doing! This time, instead of a theme like "Back to School" or "Staying Cozy," I decided to compile a list of motivational and galaxy themed items to inspire you to reach for the stars in this new year!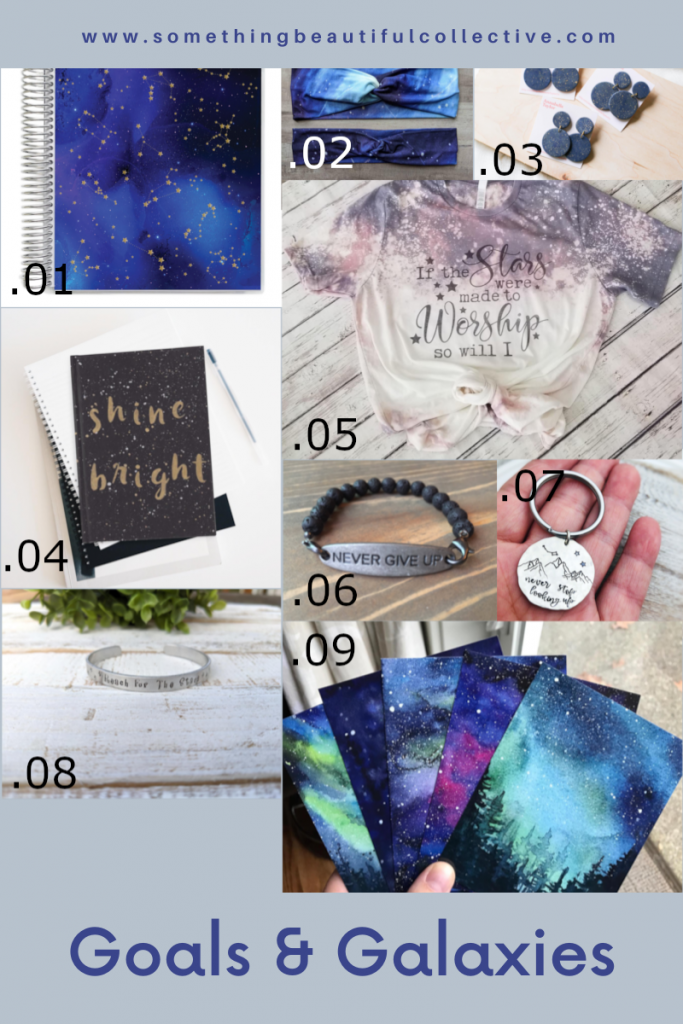 01. For all your resolutions, plans, etc. a planner is a New Year's must-have! This 2021 Monthly & Weekly Night Sky Planner from CityGirlPlanners is a great choice!
02. For many people, fitness goals are at the top of their resolutions list and obtaining the proper equipment is crucial! Yoga pants, water bottles, resistance bands…and headbands? How about these Blue Galaxy Headbands from TheFairyGodsisters?
03. Whether you need to look presentable for your next Zoom meeting or you just feel like dressing up for a night in, these Handmade Clay Starry Night Earrings from AnnabelleTaylorCo might be just the thing!
04. If one of your goals this year is to start journaling, my Shine Bright Journal is a perfect place to start!
05. This Inspirational T-shirt from SpeakLife1821Designs is a great reminder!
06. This Never Give Up Diffuser Bracelet from JustBeadItStL does double duty with a motivational message and lava beads to diffuse your favorite essential oils.
07. Great as a gift or for yourself, this Inspirational Keychain from JLynnCreations is a daily reminder to keep looking up!
08. An inspiration to "Reach For the Stars," this bracelet from OneCatToMany would make a great gift for a January birthday!
09. When you can't see your loved ones in person and you're tired of texting, why not change up the routine and send a card! These Galaxy Notecards from OlechkaDesign are sure to be a bright spot in someone's day!
That's it for this time:) As we enter a new year, make sure you're subscribed so that you stay up-to-date on all things Something Beautiful Collective! You never know what I'm going to post and you don't want to miss anything exciting!
Happy New Year!
Sign up to receive updates, exclusive offers, and other fun stuff!