February is traditionally a month for celebrating love, and recently more and more people are expanding those celebrations to include more than just their sweethearts. Why not give a special gift to a friend, parent, sibling, child, or even your pet! Who says it's only about romance!
Here are some great gift ideas to remind those special people (and animals:) in your life how much you care about them!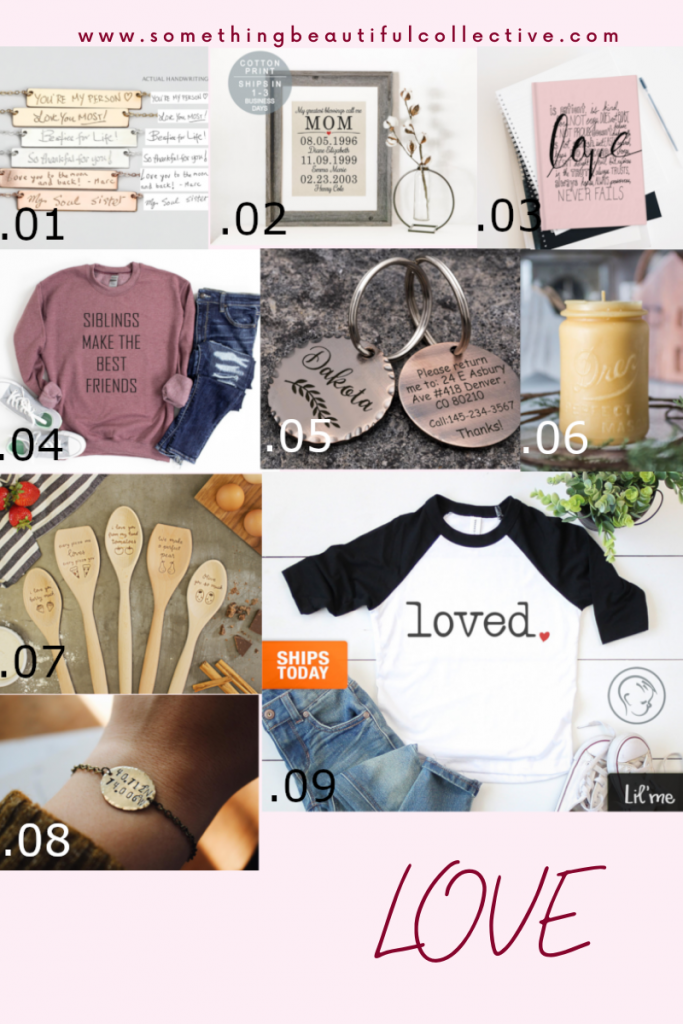 01. First off, a gift that would be so special for anyone, a custom handwriting necklace or bracelet from BlushesAndGold. Whether you choose to give a necklace with your handwriting or with the handwriting of a loved one, it is sure to be an unforgettable gift!
02.  Mother's Day is not the only time you you can get your mom a gift! This special sign from nestNbranch would be so sweet!
03. Everyone needs a special place to journal, keep their notes, etc. My Love Is 1 Corinthians 13 notebook would be a good choice!
04. Celebrate your siblings with this Siblings Make the Best Friends sweatshirt from SunAndFlowerApparel.
05. Don't forget about your pets! These personalized pet tags from NovinsStudio make sure that your furry friends don't get overlooked in the celebrations!
06. Candles are a perfect gift for absolutely anybody and this super cute Mason Jar candle from WinterBeeShop is a great idea!
07. For your favorite baker: these funny saying wooden spoons from HeartandTableCo will be sure to make them smile!
08. Your long-distance BFF needs one of these custom coordinate bracelets from TheTravelingPenny to remind them of you – and you should get one for yourself to remind you of them!
09. We can't forget the kids! Remind them how loved they are everyday with this cute raglan t-shirt from LilMeStore.
And as the perfect finishing touch to your gift, why not bake some of these cute Heart Cookies from Dinner At The Zoo!
Let me know in the comments who you're celebrating this month. I LOVE to hear from you . LOL:)
Sign up to receive updates, exclusive offers, and other fun stuff!