It's been awhile since I did a product roundup…way too long! So, since we're at the beginning of the gift-giving season, I thought a gift themed roundup would be appropriate! (And don't let the title fool you, I'm sure plenty of extroverts would enjoy these gifts too:)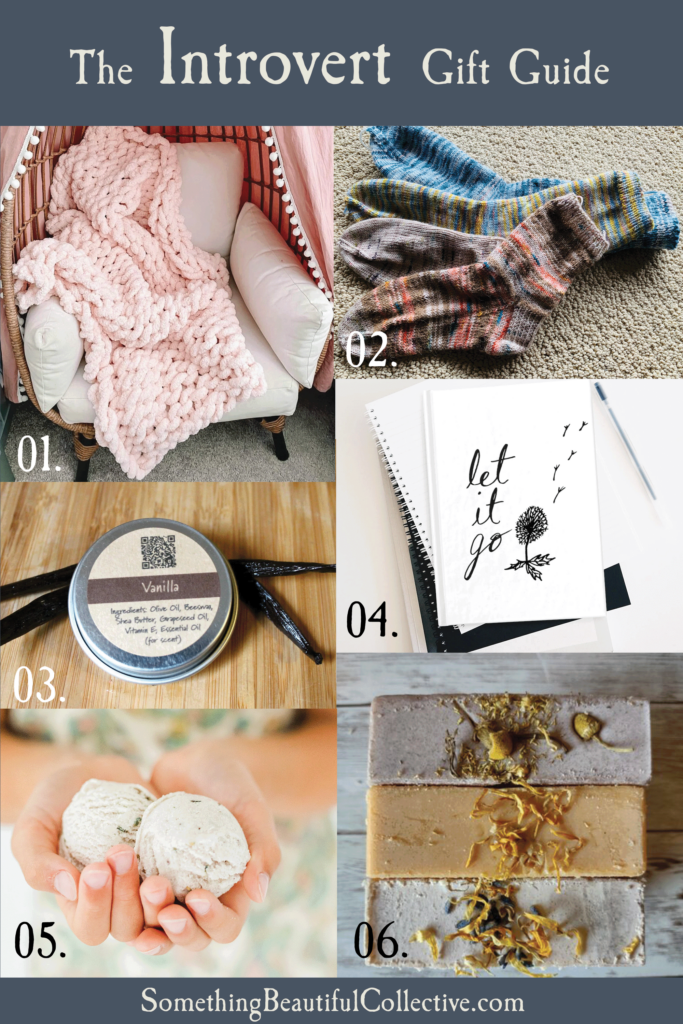 01. Cozy nights around the fireplace are never complete without a big, comfy blanket! This chunky knit blanket from TheKnottyNinetails is made of super soft chenille yarn and comes in a variety of colors and sizes, making it a perfect gift for almost anyone!
02. If you know someone who loves knit socks, add to their collection by gifting them these colorful handknit socks from Socklore!
03. Everyone loves yummy smelling lip balms, and this vanilla Beeswax Lip Balm from The Bees' Waxy Knees has the added benefit of being all natural and non-toxic!
04. A pretty journal always makes a nice gift! How about giving someone my inspirational Let It Go blank bound journal?
05. Who doesn't love a warm, relaxing bath? Give your friends and family an excuse for an at-home spa day with this Lavender Bubble Bath Truffle from BeautifulSoph.
06. Sometimes the best gifts are the ones that are beautiful as well as practical. This Lavender and Citrus Salt Scrub Bar from Burlap & Lace Soap Co. fits the bill nicely!
---
What other themed roundups would you be interested in seeing? I'm thinking of maybe like a "writer's gift guide", a "bookworm's gift guide", a "baker's gift guide", etc.
Let me know which one's you'd be interested in seeing, and what other themes you can think of!
P.S. If you would like your product featured in a future roundup (or know someone who might be interested), let me know! I love featuring unique products from fellow small businesses!
Sign up to receive updates, exclusive offers, and other fun stuff!