Okay, so it's not quite spring just yet, but in a few more days it will be! So to celebrate, I've compiled a list of spring decor and apparel/gifts that I hope you love. Let's get started!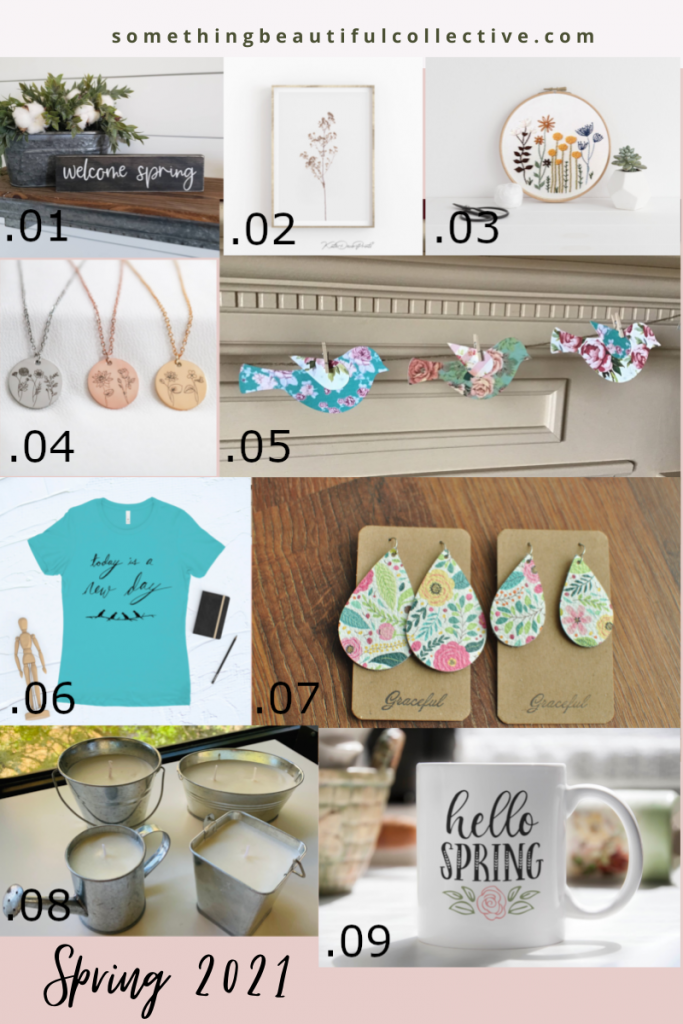 01. What better way to start than with a cute little sign that says "Welcome Spring"? This wooden sign from CSchreierDesigns would look great on your mantle, a shelf in your kitchen, or anywhere else you want a little extra springtime!
02. If wall art is more your thing, then this beautiful botanical print from KateDecorPrints would be a wonderful addition to your spring decorating.
03. Maybe you'd prefer to create your own decor this year. If so, this Modern Flower Beginner Embroidery Kit from TueBroderie doubles as both a new hobby and new decor!
04. For your friends and family with spring birthdays, these Combined Birth Month Flower Bouquet Necklaces from TorianicJewelry would make a great gift.
05. Whether you're just decorating for the season or for a special occasion this spring, this Spring floral birds garland from RubyHeartCrafts would look so cute!
06. If you're looking to refresh your spring wardrobe, my Today Is A New Day t-shirt is so fitting for spring!
07. These Spring Floral Leather Earrings from GracefulByKt would be a wonderful addition to a spring birthday gift basket for a special friend (or a gift for yourself)!
08. If it's warm enough in your area, outdoor parties are a wonderful way to enjoy the spring weather! These Outdoor Garden Candles in metal pails from TheRockLab would look so cute on your outdoor table!
09. You can never have enough coffee/tea mugs, right? This Hello Spring Coffee Mug from StarsandPine would be a good one!
Well, that's it for now. Let me know in the comments what your favorite thing about spring is! I love to hear from you!
Sign up to receive updates, exclusive offers, and other fun stuff!