Fall is officially underway and it's time to celebrate!
How do you love to celebrate Fall?
Sweaters? Scarves? Pumpkin spice lattes? Your favorite boots? Candles?
However you like to celebrate this cozy season, I have a list of some amazing stuff that might help to complement your celebration!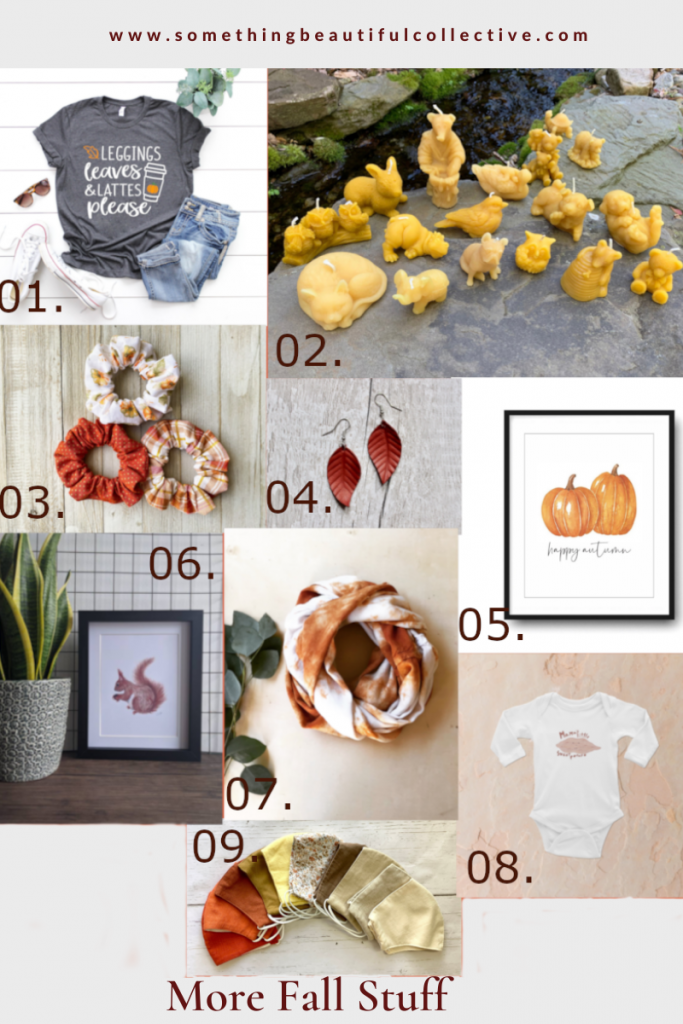 01. If you're one of those girls who is obsessed with everything Fall, this t-shirt from DesignsByArtworks is definitely perfect for you!
02. These whimsical animal candles from BeesLightCandles will add just the right touch of fun to your Fall decor! They are perfect for a kid's (or adult's!) Autumn birthday party!
03. When you need just the right finishing touch to your Fall outfit, try these cute scrunchies from TangledThreadStudio!
04. Leather leaf earrings are very popular right now, and these deep red ones from PolkawolfandMagpie are so pretty for Fall!
05. This Happy Autumn pumpkin print from HeartHomePrint will make a wonderful addition to your Fall decor.
06. This adorable red squirrel watercolor from KathrynRobbArt would make a great gift for those nature lovers with Autumn birthdays!
07. What is Fall without infinity scarves? This beautiful orange tie dye infinity scarf from AnnabelleTaylorCo is a must-have!
08. For those expecting a new little blessing this Fall, my Mama's Little Sweet Potato onesie would be a perfect gift!
09. Now that masks have become a necessary fashion accessory, you'll need some that match your Fall wardrobe. These linen face masks from BloomePetals are a wonderful choice.
Make sure to leave me a note in the comments telling me your favorite way to celebrate Fall!
Sign up to receive updates, exclusive offers, and other fun stuff!