It's finally time for pumpkin spice!!
Okay, so maybe the whole pumpkin spice craze is a little over the top sometimes, but who doesn't love pumpkin spice? If you happen to be one of those anomalies, please, leave us a comment! While maybe we don't need pumpkin spice in everything (I mean really, who needs pumpkin spice deodorant?), there is definitely a place for an appropriate amount of the comforting aroma during the chilly days of Autumn. While compiling this list of Fall inspired products, it was really hard to decide what to leave out! Don't be surprised if you see several posts over the next few weeks as there is just such an amazing plethora of clothing, decor, and accessories for this time of year! From home decor to pumpkin spice scented lip balm, here are some must-haves for this Fall.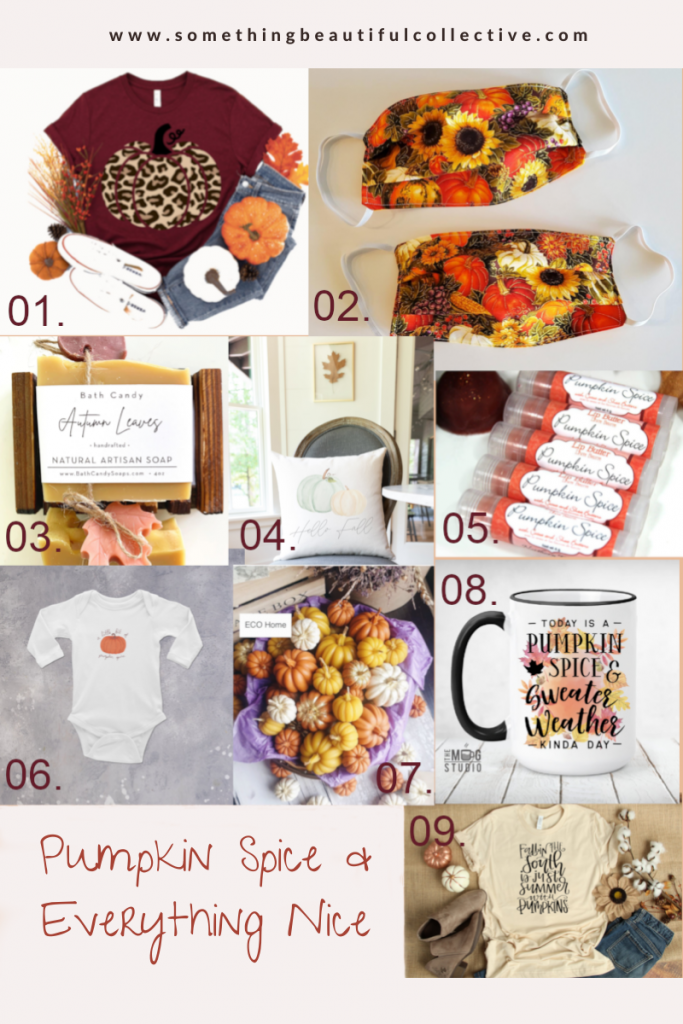 01. Pumpkins are a defining part of Fall and in recent years leopard print pumpkin decor has become very popular. This t-shirt from BandiRu would look perfect with your favorite skinny jeans and boots!
02. Ah, 2020. It has been a year hasn't it! One accessory that has now become a necessity, no matter what the season, is the face mask. These pumpkin masks from SweetnGlowDesigns are a nice addition to your Fall wardrobe.
03. Whether you have a guest room that you need to stock with treats, or you could just use a treat yourself, this Autumn scented artisan bath soap from BathCandySoaps is a great idea.
04. Changing up your decor for Fall doesn't have to mean redecorating your whole house, it could be as simple as changing the throw pillows on your couch! This Hello Fall pillow from RandGCottonGoods with beautifully painted pumpkins is neutral colored and could mix and match with other decor you already have around the house.
05. Pumpkin spice lip balm. Really, what more even needs to be said! Oh yes, these little treats from NorthernDlightsBath are made with natural ingredients and they even have a vegan option! A perfect gift for anyone:)
06. Is someone you know celebrating their first pumpkin spice season? While they may not be able to partake of all the pumpkin spice goodness just yet, they will certainly look adorable in my A Little Bit of Pumpkin Spice onesie!
07. What is an Autumn evening without candles? These 100% pure beeswax candles from ECOhomeStudio are shaped like cute little pumpkins and will not only add to your decor, they will also smell amazing!
08. This beautiful mug from TheMugStudioShop is perfect for your favorite hot drink on those chilly Fall nights! Maybe you'll even feel adventurous enough to try and make a homemade pumpkin spice latte (I did find a few recipes you might want to try, they're listed below!)
09. This t-shirt from DDandDesigns isn't for everyone, but Southerners will definitely understand! This would make a great gift!
Since the best pumpkin spice things are the ones you can eat, of course I had to find some recipes!
The Best Homemade Pumpkin Spice Latte (Inspired Taste)
Easy Pumpkin Spice Latte (Minimalist Baker)
Coconut Flour Pumpkin Bars (Detoxinista)
Pumpkin Spice Cookies (Little Sweet Baker)
Vegan Pumpkin Spice Cake (It Doesn't Taste Like Chicken)
Okay, so now you probably just have to go into the kitchen and make something, anything with pumpkin spice! Yeah, I feel that way too, so this blog post is just about over:)
But first, don't forget to leave me a comment and tell me what your favorite thing is about Fall! I love to hear from you!
Happy Fall Y'all!
Sign up to receive updates, exclusive offers, and other fun stuff!