July is here and summer is in full swing, so what better way to celebrate than a roundup of all things beach themed? There are so many cute, artsy items that it was hard to decide which ones to include, but here are some of my favorites!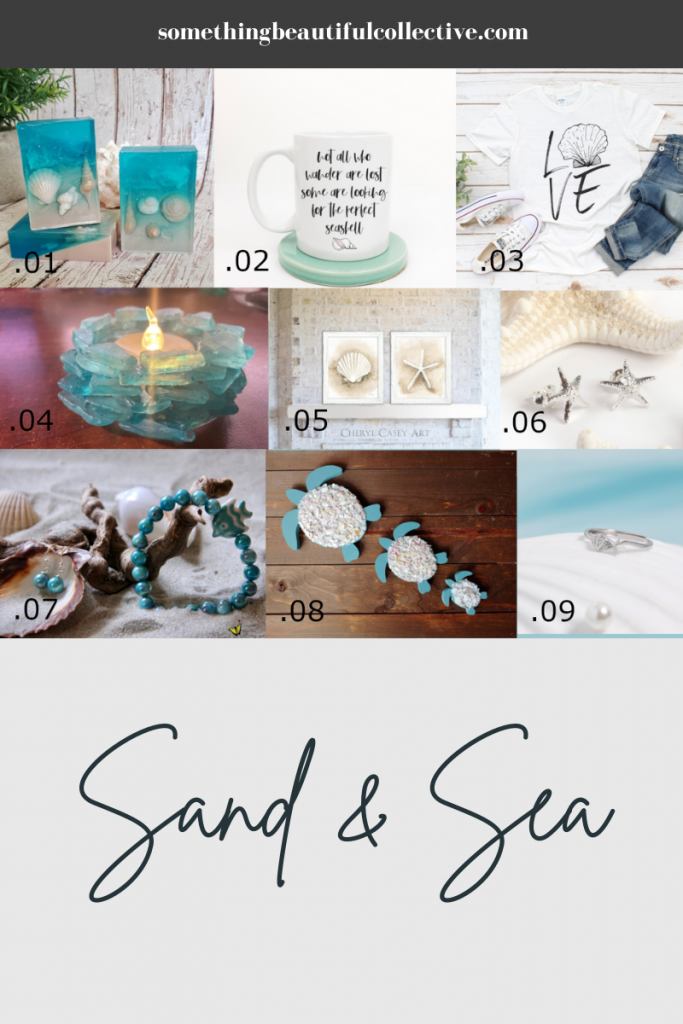 01. What could make washing your hands more fun than these adorable little Ocean Soaps from MaycieSoaps?
02. Love beach combing? This Seashell Collector Gift Mug from YaGottaLoveItDesigns is just what you need!
03. This Seashell Love shirt from ScillaVeradesign is perfect to wear for your next walk on the beach!
04. This beautiful Sea Glass Candle Holder from CyndysTreasuresStore can help create those calm beach vibes any day of the year.
05. This Seashell Art Decor Set from CherylCaseyArt is the perfect addition to any beach themed decor!
06. Know someone who loves starfish? These .925 Sterling Silver Starfish Earrings from HenrykaJewellery would make a perfect gift!
07. My Aqua Blue Dyed Shell & Sterling Silver Jewelry Set is a great addition to any summer outfit!
08. Who doesn't love sea turtles? This Turtle Family Beach Decor from ColoradoBeachSoul will look great in any room of the house!
09. And lastly, this dainty little Adjustable Sterling Silver Seashell Starfish Ring from MeissaHandmade is the perfect gift for any beach lover!
That's it for now! Let me know in the comments what your favorite thing about summer is? I love to hear from you!
Sign up to receive updates, exclusive offers, and other fun stuff!