If you're anything like me, fall tends to sneak up on you!
One minute summer has barely begun and the next minute somehow it's Thanksgiving!
I never seem to think about all the things I really should do before fall starts until after it's already here. That's why I usually end up deciding that I want to knit a hat in October (but that's a whole other topic for another time:).
This year I thought I'd be a little ahead of the game and start getting ready for fall before it's here!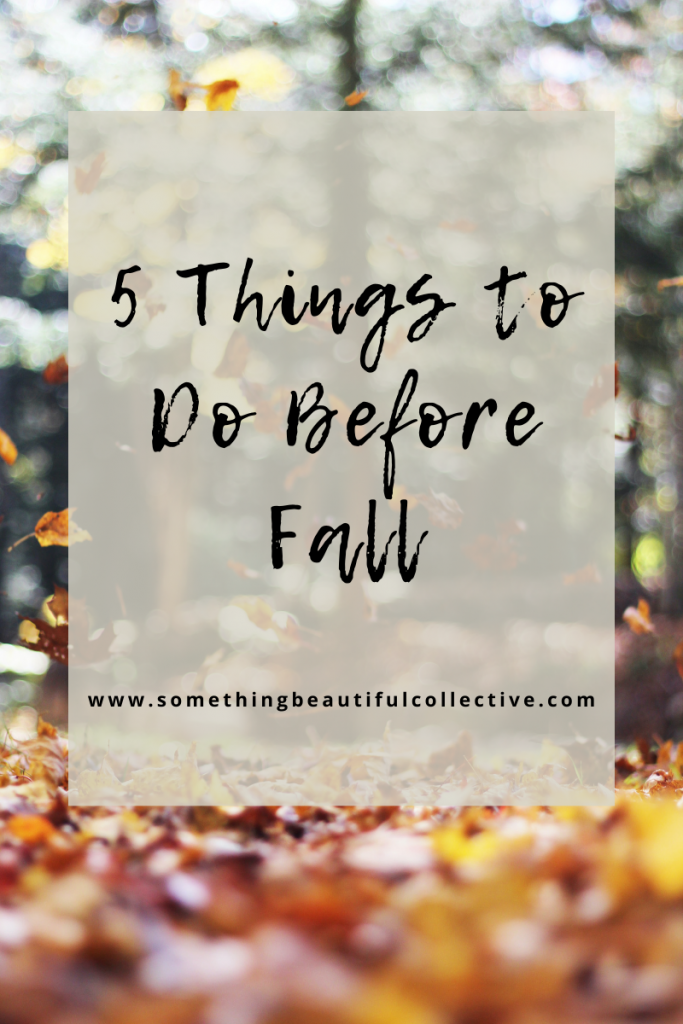 01. Decorations
When is too early to put up fall decorations?
In my opinion, it's really up to you, but I never put them out until at least September! Anytime before that just feels kind of silly, (especially since where I live, fall temperatures sometimes don't even come until late October!).
Regardless of when you decide to put them out, August is a great time to start going through your decorations and making sure everything's ready for fall. In my experience, waiting until the last minute is not going to be a very good idea. Then you might find out that you need to replace something, or decide to get a few new decorations, and by then the stores are usually almost out of fall decorations.
Just like any other holiday/season, doing your shopping early is key!
02. Apple/Pumpkin Picking
Going apple or pumpkin picking is always a favorite fall activity, and not just for the kids either! If you're wanting to make memories at an orchard or pumpkin patch this fall, it may be a good idea to start planning for it now.
Although not all varieties of apples ripen at the same time, September is generally the best month to go apple picking. Pumpkin patches, on the other hand, don't usually open until late September/early October.
When going to an orchard or pumpkin patch, it's a good idea to bring a small wagon to carry the fruit in because no one wants to be lugging around that huge pumpkin that you think would look so cute on the front steps!
Pumpkin patches and orchards are often muddy so wearing boots or old sneakers is also a good idea. If you're going to be making a day of it, be sure to bring plenty of water and snacks and maybe even a picnic blanket!
03. Fall Clothes
One of the obvious parts of seasons changing is switching out the previous season's clothes to make room for the next.
August and September are a good time to start getting the sweaters down out of the closet, and maybe starting to put away the sandals (unless you live in the southern United States, then you may need to keep the warm weather clothes out for awhile yet!).
If you have kids, this is also a good time to make sure that all of their fall/winter clothes fit and shop for those items that they have outgrown since last year.
04. Recipes to Try
One of the best things about fall is the food!
Pumpkin spice, winter squash, homemade bread, warm soups, gingerbread…the list goes on and on!
I'm sure you and your family have favorite fall recipes that you make every year, but how about taking time this the year to try some of those recipes on your Pinterest boards that you've been meaning to try for awhile and never got around to?
Going through your lists and picking a handful of recipes to try and then scheduling exactly what week you're going to try them might make it a little easier, that way you can know in advance what ingredients you need to pick up at the grocery store.
05. Getting Ready for Daylight Savings' Time
Wasn't Benjamin Franklin a genius? Thanks to him we get a whole extra hour of sleep (in the fall anyway, let's not even talk about in the spring. LOL:).
Still, even though the extra hour isn't going to make it difficult to get up on time, it is a good idea to mark your calendars for the change so that you don't show up to church an hour early!
---
Okay, now I guess I should go start knitting that hat (just kidding, I should have started that months ago!), but maybe I'll knit some miniature pumpkins instead.
Hey, maybe I'll even do a post about them sometime soon! Keep an eye out!
Sign up to receive updates, exclusive offers, and other fun stuff!