With fall right around the corner, now is a good time to start preparing for any guests you might be expecting in the coming months. If your guest room hasn't been redecorated in awhile, maybe now is the time to give it a bit of a facelift for the autumn season!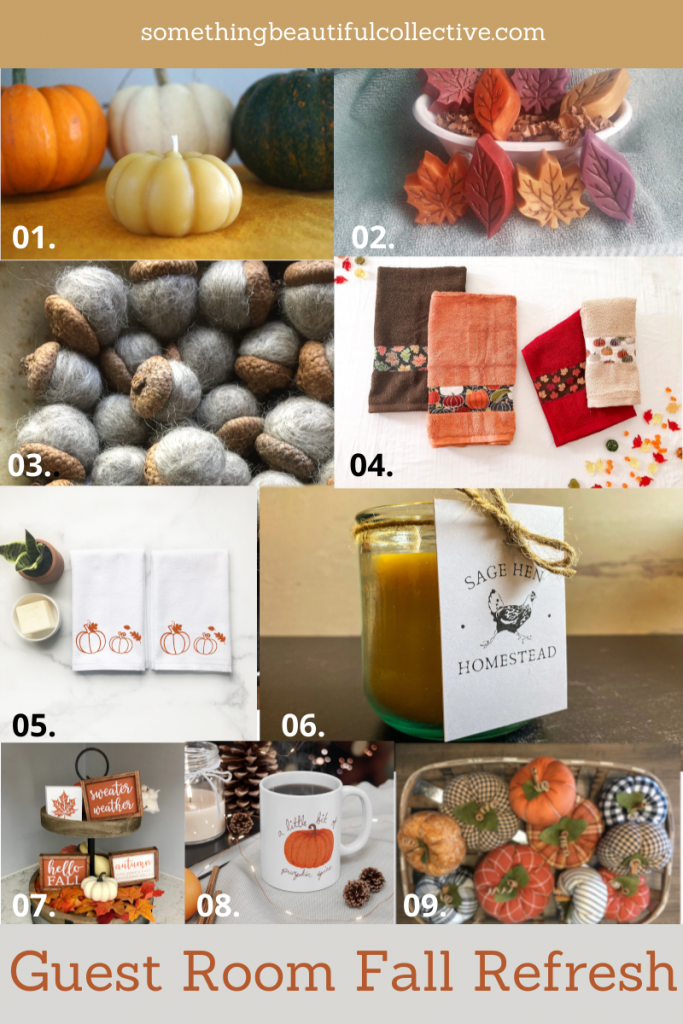 01. These adorable beeswax pumpkin candles from HeirloomEarth would look so cute anywhere in the house, not just in a guest room or bathroom!
02. A set of these leaf soaps from heffernanscrafts for your guest bathroom will make even a simple thing like washing your hands seem special!
03. A decorative bowl of these Felted Acorns from Feltedacornscanada would look cute on a dresser or nightstand!
04. Don't have a set of fall hand towels? These towels from JustACraftyEngineer would fit the bill nicely!
05. Prefer a simpler style of towel? How about this bathroom hand towel set from KitchStudios?
06. What is fall without pumpkin spice? This pumpkin spice beeswax candle from SageHenHomestead would be perfect!
07. Who isn't a fan of trendy wood signs? These fall themed mini wood signs from AriellesGrotto would look great on a mantle, shelf, or just about anywhere!
08. Why not get your guests a little gift to take home as a reminder of their visit? My A Little Bit of Pumpkin Spice mug would make a wonderful gift. After all, who can have too many coffee mugs?
09. These handmade fabric pumpkins from CreativeFabricCrafts would look great as a decoration on a shelf or mantle or even as place card holders on your dining room table!
What do you like to do to get ready for fall? Let me know in the comments!
See you soon:)
Sign up to receive updates, exclusive offers, and other fun stuff!