April showers bring May flowers, and so what better theme for my May roundup than the word "bloom"?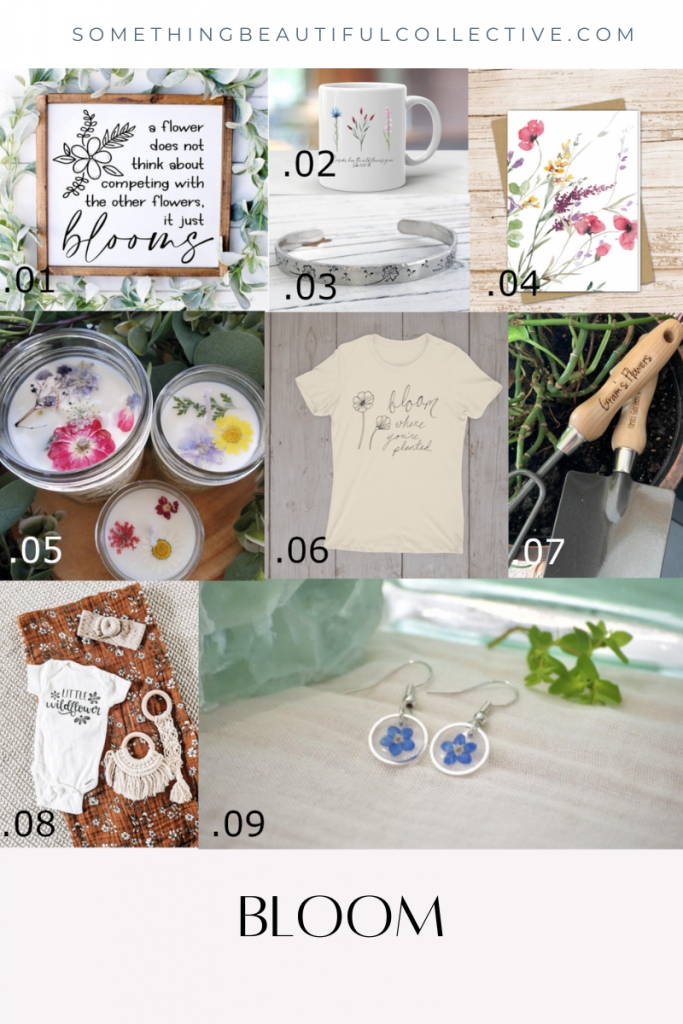 01. To start, this beautiful wooden sign from Marksthespotcraft says it all!
02. Another inspirational reminder, this mug from ArtfullyChallenged would make a great addition to your coffee mug collection.
03. This Dandelion Hand Stamped Cuff Bracelet from LiveInspiredDesign is a wonderful addition to any casual spring outfit!
04. This Wildflower Card Set from CelebrateLilThings is a must have for any flower lover's stationery collection!
05. If you love candles, and you love flowers, then you need these Botanical Soy Candles from TheRuddHomestead!
06. A reminder to thrive wherever you are, my Bloom Where You're Planted t-shirt is a great addition to your spring wardrobe!
07. These Personalized Garden Tools from LastingImpressions14 is the perfect gift for the gardener in your life!
08. This onesie from MommyLifeByDesign would look so cute on your little wildflower!!
09. A perfect finishing touch to our roundup, these dainty real flower earrings from MadeByKatin would be great as a gift or for yourself!
That's about it for this time! Before you leave, let me know in the comments what your favorite flower is. I love to hear from you!
Sign up to receive updates, exclusive offers, and other fun stuff!