September is here!!! I always love it when August finally turns the corner into September because then I feel like I can really start celebrating fall without anyone laughing at me:)
For this month's roundup, I compiled a list of several really cute fall themed items.
Enjoy!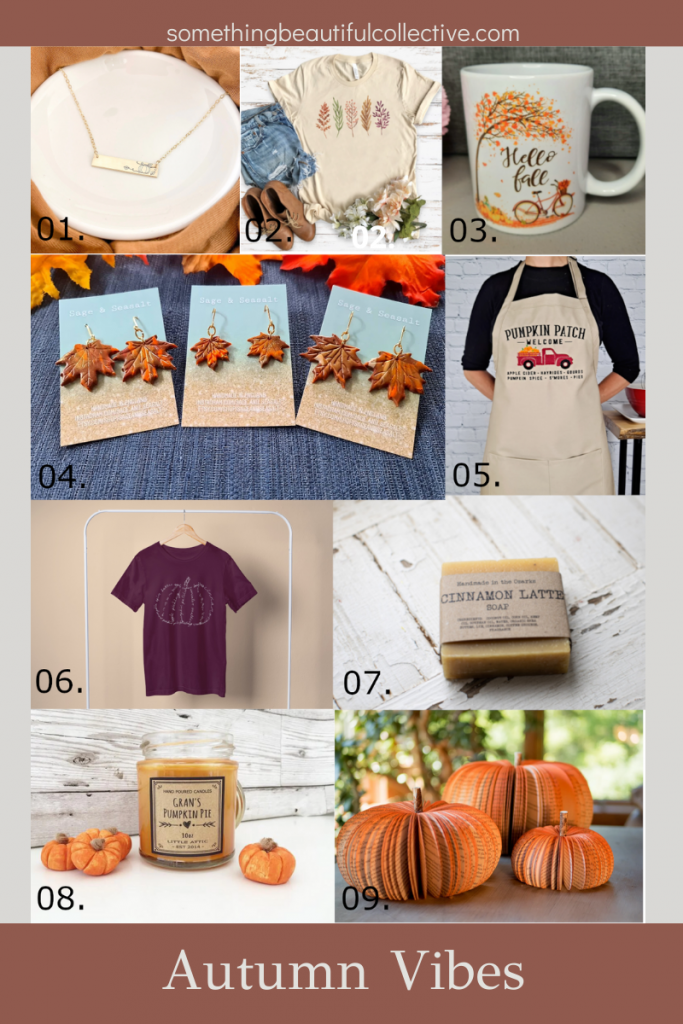 01. Bar necklaces are so on trend right now and this Pumpkin Bar Necklace from WordsByHeartCo is perfect for fall!
02. I love this Fall Leaves shirt from SmokeySkyCreations! It would look perfect with your favorite skinny jeans and boots!
03. Are you ready for Pumpkin Spice lattes yet? This Hello Fall mug from HerOwnCastle might need to belong in your kitchen!
04. These Maple Leaf Earrings from sageandseasalt are the perfect finishing touch to any fall outfit!
05. If you love to bake, then you need this Welcome to the Pumpkin Patch Apron from Apronsalso!
06. Wear all of your favorite fall words with my Fall Words Pumpkin shirt!
07. This Cinnamon Latte Soap Bar from leboxboutique will make your bathroom smell amazing!
08. If you love pumpkin pie and you love candles (and who doesn't!?), then you need this Pumpkin Pie Scented Candle from LittleAtticR!
09. These Book Pumpkins from RootToVine are so unique! If you love fall and you're a bookworm, you might need these!
---
Do you start celebrating fall in September or do you wait until the official first day of fall? Let me know in the comments!
Happy Fall Y'all!
Sign up to receive updates, exclusive offers, and other fun stuff!